There's no question - mobile does matter
When you're connecting with your customers and prospects you have to do it on their terms. If they choose to check emails when they're commuting to the office, or standing in-line for their coffee you need to be there.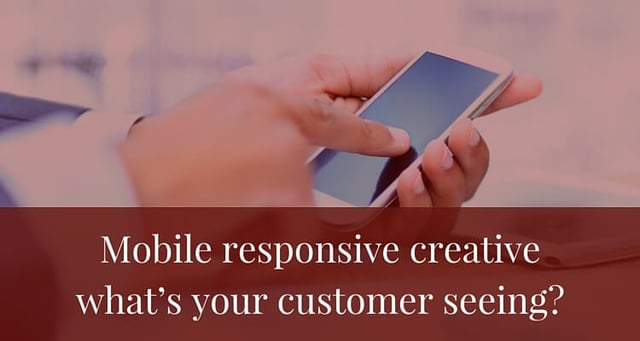 Timing however, is just part of the equation.
We all get frustrated when things just don't work. You want to bid in on the exact piece of equipment you have been looking for but the button won't work - what do you do? Well, if the piece of equipment is exactly what you need to keep operations going you might pick up the phone and call customer services…
But, would you always ask for help? Probably not…
Amoung the top reasons people leave a website are
Because something doesn't work
They can't find what they're looking for
The site isn't easy to use on a mobile.
Emails are no different
When we send out an email we're trying to create a connection and compel a reaction. Well if the connection fails - because the recipient can't read or understand the content - the action will probably be 'trash' or worse 'mark as spam'.
Litmus reported in April that mobile opens have jumped to over 55% this year - that's a 7% increase since 2015! Chances are, if you're customers aren't already checking emails on their phones, they soon will be. In fact, if desktop users are in a minority - shouldn't we be prioritizing mobile?
Visual appeal can be life or death
One of the biggest challenges for email marketers can be achieving a strong click through rate. There are several factors that play a part, specifically for mobile these include:
Speed of the message loading
Simplicity of the message - if you're working on a small screen you want the information in a simple, clear format
Great subject and intro - on a mobile you see very little of a message before deciding on your next steps…to open or to delete.
The biggest issues of email on mobile
There's just so many variations
From operating systems, to devices, when you calculate the number of combinations it's mind boggling. Devices tend to display content ever so slightly differently - testing is essential. Litmus offer some great testing tools that will test many devices quickly.
Using big pictures
Sometimes us desktop users, connected to corporate speed internet, forget the frustration of watching a message load. It's simple math - if you send your whole message in high resolution photos mobile users will be waiting…and that's to be avoided.
Sure, 4G is more widely available than it used to be, but don't assume that your customers are connected. 4G may be available in most countries but coverage is patchy at best.
Forgetting to use a text-only version
Some people change their settings to ensure they can read messages quickly. Have a chat to your email provider, can they offer a text only version? If not, that's ok, just check that your email reads well without pictures.
A quick trick to test this is to open your html message in Chrome. Then go to the settings menu (three horizontal bars in the top right), choose settings, then show advanced settings, go to Privacy and click Content settings… Now change the radio button to Do not show any images. Now, refresh your design. This is similar to the content your recipient will see without images. If your message doesn't make sense go back to your coder and ask them to amend it.
Poor formatting
There are differences between designing for the web and designing for email. If you are outsourcing your html creation, make sure your supplier is familiar with html for email.
Check your stats
If you are concerned with the performance of your email marketing for mobile users take a look at your analytics report.
Find the report for a recent campaign and segment the data by device. What was your visitor traffic like? If there are zero or very few visitors from a mobile device, I recommend reviewing your creative or running some additional testing.
If visitor numbers are good, then turn your attention to the engagement on your site. It's great to get people to your site, but you want to keep them there and have them convert whenever possible.
Get a second opinion
If you would like to chat to an email marketing professional, book a consultation with Donna today. Just pick up the phone and dial +1 860-210-8088 or email her directly dpeterson@worldinnovators.com.
Don't leave it too late - if your mobile click through rate is low take action now!