5 Tips for B2B Companies Using Facebook

Donna Peterson
Facebook reported in March 2017 they had 1.28 billion active users daily, 85.9% of whom are outside of the US and Canada! Not all users are active daily, of course, but monthly they see 1.94 billion users – a number not to be ignored.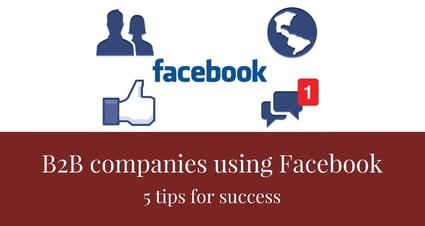 So, Facebook has a huge pool of prospective customers and connections, but in the B2B world Facebook is often overlooked. It's perceived as the domain for consumers, but that is just not true. You could be selling accountancy services, industrial machinery or anything at all – you're still selling to a person! As the lines between business hours and personal hours become ever more blurred, there is an opportunity to connect with the right people at the right time.
Here are just a few key tips to help you improve your effectiveness in using Facebook for B2B marketing.
1. Be current
Remember how many people are using Facebook daily – if they head over to your company page, will they be impressed or put off by the freshness of your content?
There are countless articles claiming to reveal the optimal number of times to post during the day, but in my experience it's best to work this out for your business and your fans.
Being current doesn't mean churning out evergreen content day after day. Having recent, high quality posts, photographs and video will give you a profile that is seen as valuable to your visitors.
2. Engage
This may sound obvious to some, but still there are companies who are missing the 'social' aspect of social media marketing. It's essential that you're present (at least occasionally) and are taking part in conversations.
Many companies use tools such as Buffer, Hootsuite or others to post out their content on a schedule – and this is good to keep your content circulating, but it's no replacement for live interaction. Remember, there are real people on the other end of your messages – they don't want to be spoken 'to', they want to have a conversation.
3. Multimedia
Don't be tempted to just share text-based posts. Using images and video will greatly enhance your engagement rating. You don't have to be a graphic designer or invest in expensive software.
Simple tools like Canva or other photo-editing apps on your phone can all help. Most are easy to use and inexpensive; some are even free.
Video is a little more challenging for some of us, so why not have a look at what other people are doing first, then give it a go? I would recommend recording a video and reviewing it before posting – especially if it's your first time, going to Live Video from the outset could have some unexpected results!
4. Find influencers and competitors
You don't have to reinvent the wheel when it comes to finding out what works. Find the experts in your marketplace – they could be competitors or consultants or anyone who has an influential voice in your community. Look at what they're doing that's working – are they getting more engagement on video content than written posts? How often are they posting?
Try to get involved in the conversation – social media is reciprocal, so if you share and engage with influencers, they will likely help you by sharing your highest quality content.
5. Consider paid content
There's no escaping the fact that achieving your Facebook goals through organic reach alone will be a tough road to travel. Facebook is showing less and less organic content in newsfeeds. However, paid content is inexpensive and the targeting tools are superb.
Take time to research who you want to put your message in front of. Build a very targeted custom audience and continue to refine this over time.
Consider the different ad formats available and which ones will suit your products or services best.
Most Importantly Be YOURSELF and Be GENUINE.
Finally,
If you need some help getting started using social media, or you want to improve your effectiveness, give me a call today. I'll be happy to share some of our tried and tested methods to increase your return on investment. Call me, Donna Peterson, on +1 860-210-8088 or email dpeterson@worldinnovators.com.