There are occasions, perhaps more than we marketers would like, when time really is against us.
A new project lands on your desk, requiring market research, media selection, booking, artwork creation and more. Nothing new, and we take it all in our stride. Except when you spot the deadline on the project brief. 2 weeks, maybe less.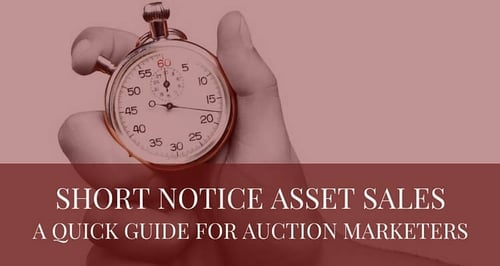 So what can you do when you have no time?
When the clock is ticking, leave creativity at the door. Tried and trusted is what's needed. So, the first step is to evaluate the project and look at any other sales you've conducted in the past 6 to 12 months of a similar nature. Similar equipment, location or target markets.
Now grab the project files and results and find the gems from your previous media schedules.
If you've read our previous posts, you'll know we're strong advocates of test and measure across all marketing tactics. One of the most valuable parts of the process is reflecting back on the performance of different media. Now that data really comes in handy!
Find your winners first
As time is of the essence, you're looking for any tactic that has produced fast, solid results.
Now this process is of course relevant for all projects, regardless of the time available, but in the case of a fast turnaround sale it is more important than ever. You need to focus your attention on booking the winners first, research takes time so get in quick and book that late space while you can!
Flexibility
Availability of media can be seriously compromised when you are working with a short timeline. This is something which is often overlooked when considering what is and isn't possible. Don't assume that because you want an electronic solution, perhaps email or banner ads, that there is a never ending supply. Usage of high quality email databases for example, is often restricted, over using a list will lead to high unsubscribe rates which would be highly damaging for the list owner.
Being flexible with the media you use and your budget will help. For example, if a direct email has worked well in the past but is not available this time, look for the next best alternative, perhaps a banner on a newsletter.
Managing expectations
When communicating with the wider project team and your client it is important that you agree autonomy to book media as required. Quite often, when time is more abundant, we produce draft schedules, discuss and agree them with the team before confirming with the publisher or media owner. When you have a matter of days to promote a sale there is little time (even with superb cooperation) to check-in with everyone before taking action.
We recommend agreeing an outline schedule – this would include a split of budget between channels, for example 60% email, 20% banner ads and 20% internal databases. In addition you might want to include a list of potential sources, but nothing too specific, so perhaps the publisher names and the journals they offer, but without specifying how you will use them.
This method allows you to discuss the merits of different media and sources, without tying you to a specific product from each publisher.
The reason for doing this is simple, if you have in mind to book an email broadcast with publisher A, but when you go to book it's not available at the right time you need to be able to make the decision there and then to use an alternative. This is the only way you can book a short notice sale, otherwise you run the risk of all promotion going out just days before your sale – or worse, not at all.
In summary
Short notice sales are highly demanding and require lots of flexibility. Keeping your previous sale results close to hand will be invaluable, but if you find yourself wondering what media will work best and can be delivered quickly, don't wait, pick up the phone and call Donna on +1 860-210-8088 or email Donna directly dpeterson@worldinnovators.com.