In order to increase effectiveness, all B-to-B marketing campaigns must include some Direct Mail. It is all about that perfect combination of traditional and modern media. As marketing technology has been evolving, there are some people who do not think there is a need for postal campaigns, many believing that direct mail is "dead" or "out of date".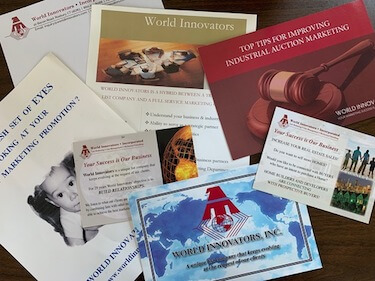 In 2018, Direct Mail has grown in great popularity, and people have been shocked. Need proof? Check out these four statistics!
According to the 2018 ANA/DMA Response Rate Book, Direct Mail received a 9% response rate from House lists, and 5% on Prospect lists. This is a drastic comparison to email which only gathered a 1% response rate for both. However, due to email's high ROI for the price per acquisition, it is still greatly relevant.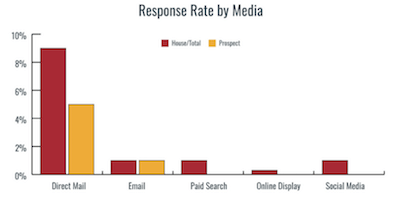 A letter-sized envelope for a lead generation campaign to a house file produced the best median response rate overall—15.1%. (Source: ANA/DMA Response Rate Report 2018)
76% of consumers trust direct mail when they want to make a purchase decision. In fact, consumers trust traditional advertising channels more than digital channels when making a purchase. (Source: MarketingSherpa)
Direct mail requires 21% less cognitive effort to process than digital media and elicits a much higher brand recall. In other words, it's easier to understand and more memorable. (Source: "A Bias for Action," Canada Post)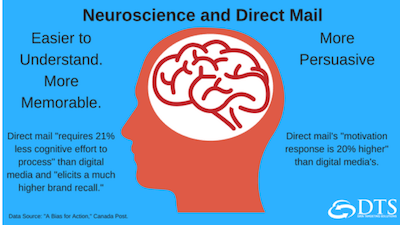 Why is this Happening?
Improvements in targeting capabilities through gathering better lead data
Technological advancements
Personalization is becoming more popular, making various brands stand out to consumers = BRAND LOYALTY = Better Response Rate for those companies
It is easier to say no or avoid an email than a physical piece of mail
Marketers are becoming smarter in sending promotional pieces to people that will really appreciate it
How to Create a Direct Mail Campaign?
You must begin by educating the prospect about your company. Direct Mail is a great way to introduce your company. Take the time to map out your Direct Mail Campaign -
Determine your target audience by analyzing the people that have bought your product/service.

Find the appropriate response file that reaches your audience

. If your Direct Mail campaign does not go to the right person it will fail.
Create content that will resonate with your target audience.
Offer them something they can not live without- something that will fix a problem they are having, something that will answer a question they might have . . .
Create urgency so the recipient acts on the offer right away.
Complement your Direct Mail initiative with other marketing channels to make a cohesive campaign that will help you get the best response. I have clients that will send out a Direct Mail piece and then following up with an Email. They always see a better response when they do this, because the recipient knows the company name and is more likely to open the email. They continue promoting with strategically placed banners and social shout-outs to keep the prospective buyer moving along the buyer's journey. It is all about nurturing your leads through the sales process.
Have you done any multi-channel campaigns that included Direct Mail? If so, I would love to hear about them because as we all know you constantly must be testing, testing and retesting. Marketing is changing at such a fast pace that what worked 6 months ago may not work today.
Need help finding reputable source and tracking the results? You should enlist in the help of World Innovators' reputable List Brokers. Our 40 years of knowledge can help save you time and money.
If you would like me to review your Direct Marketing Content to analyze its responsiveness, please reach out to me at dpeterson@worldinnovators.com OR 860-210-8088.