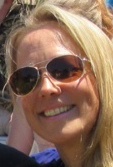 Donna A. Peterson
Executive Vice President
After graduating college Donna thought her career path was in Finance and accounting. Working with a Real Estate Developer in accounting she quickly found out that she enjoyed working one on one with people and trying to figure out the puzzle. She joined World Innovators as she was studing for her Financial Planning degree. While at World Innovators she enjoyed the aspect of working in different industries in different parts of the world. As she says the puzzle got bigger and more interesting. After 3 years she completed her CFP exam but decided to stay on at World Innovators.
Now several years later Donna continues to assist clients in finding their specific industry audience through several different marketing channels.
When Donna is not working she loves to be outside doing any type of physical activity - Swimming, Skiing, Golf, Tennis, Hiking . . .