After your headline, your call to action is possibly the most critical element of your campaign.
Your headline grabs the reader's attention. Your body copy and content should draw them in and keep them moving through the piece. Then what? Now it's time for your call to action to shine.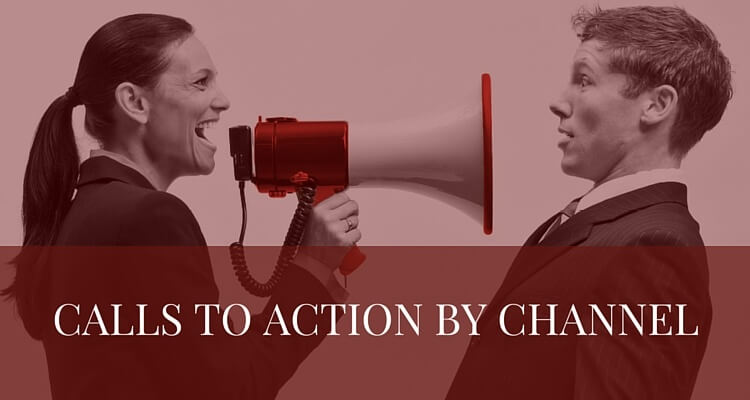 The basics of calls to action
You're asking your reader to do something – what's in it for them?
This is an important consideration. We need to compel the reader to do something, just because we want something doesn't mean the reader shares our desire!
Be clear about what action to take
If you want them to sign up for your newsletter make it compelling - why would it would be a great choice for them? Will they be the first to hear about breaking news? Will they be able to wow their colleagues with their up to the minute knowledge in the industry? Whatever the benefit for your audience, make it clear either in or above your call to action. For example:
Be the first to hear about breaking industry news
The right call to action for different channels
What we want is not always shared by our audience. We might want newsletter subscriptions, but actually our audience just wants to browse our latest posts on Facebook.
Thinking like your customer is essential. If they prefer social channels ask them for an appropriate action – for Facebook as them to Like your page, or for Twitter to Follow you. You can incentive this action with exclusive special offers or the promise of exclusive content.
I don't want them to Like me – I want them to buy from me!
Fair point – we're unlikely to have a successful business if we focus on entertaining people – we need them to buy from us too. But it's a process, a journey.
Your process should be like a funnel – you start at the top (the wide end) and slowly move to the narrow end where the customer will buy from you. Not everyone makes it through the funnel – but what's important is that a good number of people do.
So your funnel might look like this:
Engagement – they follow you on Twitter
Nurturing – you send them a direct message thanking them for following and suggesting they get the latest offers by subscribing to your newsletter
Expression of interest – they subscribe to your newsletter
Follow up – they receive your newsletter
Sale – they see your latest offer and buy from you.
This is just one very basic funnel – most businesses will have several but mapping out the journey in this way allows you to make your call to action appropriate.
Calls to action on social channels
For most social interactions you are making an initial connection with your prospects – asking for something appropriate is essential. A simple 'Like' or 'Follow' is a small request and likely to get the highest return.
A stronger call to action would be to 'Share' your latest post. For the reader this means showing a public endorsement for your product or service – this is quite a big ask so make sure it's compelling, something that they would be proud to share. If you output sloppy content it is unlikely to be shared.
Also consider the type of content you ask them to share. Testing between images, video and text will show you what your audience most like (or feel comfortable) sharing.
Calls to action on email
If you have your compelling reason to take action nailed this is straightforward. Simply get them ready with a benefit statement and ask for the action – visit your website or pick up the phone. Creating a sense of urgency can help – 'Call us now while stocks last' for example.
One big difference with email is that you're asking the reader to leave their space and enter yours. This is an area where there can be a lot of friction and it can adversely impact your click through rates. Before sending an email ask yourself these questions:
Have I provided enough information for the prospect to trust me?

Have I demonstrated the benefits

for them

in taking the desired action?

Have I made my call to action really easy and clear?
Call to action on websites
The same rules apply to websites as any other channel – keep it focussed on the benefit for the reader, however on the web it is important to consider layout.
The internet is fluid – it is harder to control the placement of information as it often changes between devices.
If you have a typical web layout – perhaps a header, wide column and narrow column, on a pc it would make sense to put your call to action is the narrow column on the right of every page – however on a mobile device this might appear underneath all the other content.
Having a simple call to action that is repeated several times throughout your copy can help. If you want the person to fill in a form simply provide a link back to that form – it's not necessary to repeat the form several times over.
In summary
There are no fixed answers to the best calls to action – there are too many variables – from your customer's desires, to yours and the platform you are using in your promotion. There are however easy to follow steps, as outlined here, to start testing different calls to action across channels.
Tell us about your winning calls to action in the comments below. Or if you would like an independent review of your next marketing piece call Donna on +1 860-210-8088 or email directly dpeterson@worldinnovators.com.