Whether it's the first email you've sent to a prospect, or the 20th, your subject line will be the most important few words in your whole email.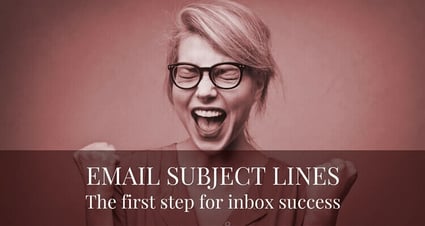 What's all this noise?
The way we read and consume information has changed dramatically over the last 5 to 10 years. Rubber date stamps sit idle in drawers as the postman's bag gets lighter. The move to digital communication has brought with it so many benefits; speed of getting a message out, speed and ease of response, connecting decision makers in real time, the list goes on.
The flip side however is that we all receive tens or possibly hundreds of communications every day. Emails, social posts, text messages and more, all mount up to be a huge burden on the recipient.
Everyone has had to adapt and find ways to manage this influx of information. Many of us scan, sift and prioritise our emails in a matter of seconds.
Passing the scan
Statistics vary on how long we, as marketers, have to grab a reader's attention, some studies say 3 seconds, others report longer but we know with certainty that we have to make a big impact.
What do you have to offer your readers that will make them pause at your email?
Aim for the open
When you scan your inbox what are you looking for? Take a moment to think about this. Then think about what your recipient is looking for. You'll be surprised at how similar the lists are. Mostly we are looking for the same things, things that will:
Make things easier, faster, cheaper

Make us look good, perhaps keeping informed in our market space

Give us a great deal on something we want.
To make a big impact, make sure your subject lines speaks to what the reader wants.
Writing email subject lines that work
The big question: What is your email offering? An opportunity (not to be missed)? An offer (is it time sensitive)? Advice (that will make the reader shine)?
Now you have to convey the very best your email has to offer, the biggest benefit for the reader, in as few words as possible.
Best specific
If you're offering a limited time deal, be clear, which of these would you pause at:
"Great deals inside this week's newsletter"
"1 day left to get Wonder Widget for half price"
Be honest
If you've made a promise in your subject line, make sure you follow through. It can be tempting to put your best offer in the subject and then put the corresponding narrative at the end, then the reader will read all your email, right? Wrong. Most readers will open the email, not see the offer that interested them, close the email and move on.
Short and sweet
Get to the point, fast. Your readers don't have time to read every word of your subject – get the important information in first and keep it as short as possible.
Testing your email subject lines
To take your email subject lines to the next level, we recommend testing variations. The simplest test is to split your data in half, sending a different email subject to each. Then compare the open rates. Your email broadcast system may already provide this function – look for A/B split testing in the documentation.
More great advice and tips on email marketing
To receive more tools, tips and advice to improve your email marketing subscribe to our newsletter now – just fill in your email at the top of this page.