Tell us about your target audience, we will put together a recommendation showing the List Name/Source, Appropriate Selects, Quantity and Pricing.
Here are some of the ways we will save you Time and Money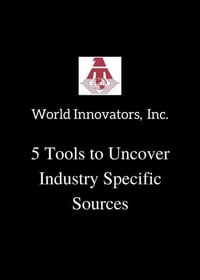 Global Alliances across several different Industries and Countries

History of what files work and which to avoid

Volume Discounts offered to World Innovators and passed onto clients


We look forward to showing you some unique options for your next Direct Marketing Campaign. Click on this report cover to see 5 tools used to uncover industry-specific sources.
If you need assistance please do not hesitate to call or email us.