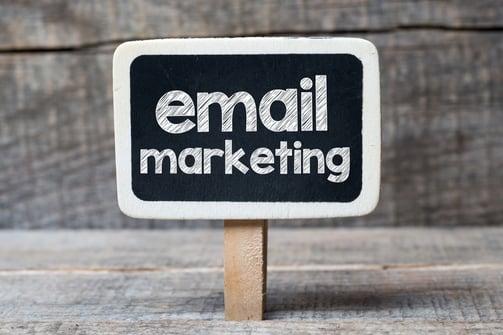 Are you debating if Email Marketing is suitable for your B2B Offer?
To help you make a decision, I thought I would go over 5 frequent questions I am constantly be asked.
1.Should I spend my marketing budget on email marketing or social media?
I can't choose one over the other because I like both for different reasons. Expensive B2B offers must have email campaigns included in their marketing strategy. But with more decision-makers and a lengthier sales cycle, social posts can keep your brand top of mind. Also, time-sensitive issues like an industrial auction or executive education program need an email to get their message sent directly to their specific customer.
Here are some benefits of email marketing.
Personalized Marketing Campaigns - Personalized marketing has proven to be a useful tool in the hands of marketers. When you infuse your messages with personalization, you can craft targeted campaigns and secure a high conversion rate.
Nurture Existing Audience - Through this marketing technique, you contact email subscribers that have already interacted with your brand. You can send them newsletters with company updates and promotions to build positive relationships and win customer loyalty.
Increase Website Traffic - Want to boost your website traffic in simple steps? With the appropriate CTA buttons on your emails, you will increase click-through rates and redirect email subscribers back to your website.
From there, you can lead them to pages they'll find interesting, such as product recommendations or customer stories. The more they interact with your website content and assets, the higher the chances they'll convert.
Following are some benefits of social media marketing.
Reach a Wider Audience
With social media marketing, you not only have your followers who chose to see your updates and posts. but you also have each platform's algorithm that will display your posts to other users. This will take place based on network activities or relevant interests. Thus, if you want to broaden your outreach, social media is an excellent option.
Boost Brand Awareness
The number of global social media users is massive so you can't ignore this opportunity. Research your target audience to find where they spend their time on social media and nurture buyers wherever they are. People already interested in your brand will keep an eye on your updates on social media.
Build Customer Relationships
When followers are interested in a post, they will comment and even get a reply from you. By monitoring customer engagement through your posts, you can listen to what they like and dislike. There are now a lot of businesses that provide customer service through social media. These actions create a sense of community and belonging for your buyers and prospects.
2. What should I do if I don't have an email list?
Start to grow one – Create an offer that resonates with your target audience, an infographic, a FAQ sheet, a webinar, or any other type of content that will catch their attention. By offering relevant content and gathering emails you can then nurture them into buyers using email.
But what if you need an email list quickly – First thought is to buy a list. Let me tell you what you need to do if you want to do this:
Know the source
Is the information Opted-in
Is each record compliant with State and/or country regulations
Selectable enough to reach your specific audience.
Before buying data, I recommend doing some email list rentals so you can determine what works. These lists usually come from industry-specific publishers or conference companies. In these list files, you have individuals that have taken action to be on the file.
Two reasons why renting an email list from a reputable source is a good idea; the first reason is the list owner will not release this data because it is such a valuable asset for the company, so they do everything to keep the data safe and up to date. The second reason is because the emails are sent from their platform. The individual knows the sender, so the email makes it to the inbox and is opened.
3. Should I segment my list?
Today your main objective must be building relationships with prospects and customers. The only way to build relationships is by talking to them about their specific challenges or goals. Segment the file so you can create content that speaks directly to a particular group. Segments also make it so much easier to know what subject lines and messages to write that will entice the users to open and engage with your email campaigns.
4. How often should I send an email?
There can be two situations: over mailing, where you send a huge bulk of emails that might annoy your recipients; under mailing, where you don't send enough emails to engage with your recipients properly. The magic lies in between.
Remember too that consistency is the key for all marketing. Space out the emails so people remember your previous message but not so close that you are annoying them. Also try to have each email offer more value to the recipient each time. This might sound overwhelming, but if you get on a good Email marketing platform, you can set up sequences and workflows that make the process seamless. For example, World Innovators uses HubSpot, which some consider expensive, but the platform does the work of 2 employees, and the system is up 24/7/365.
5. How long will it take for me to reach my Email Marketing goals?
Do not rush the process – Analyze each initiative and learn from it. Remember, marketing is all about Testing, Testing, Testing. Think of your marketing campaign like a weight loss program. You don't want to lose 10 lbs in 2 weeks. You want to make small changes so the weight stays off and you look great year after year.
Email marketing is still effective, but it has to be done correctly. All the companies I have worked with that said email marketing does not work have slowly changed their mind as we changed what they were doing.
Gone are the days of sending mass emails with a generic message to a broad group of people. People's inboxes are too inundated with messages. They will only respond to the things that speak directly to them.
For more marketing Tip and Tactics, please connect with me -
Subscribe to our YouTube Channel