Driving high volumes of traffic to your website doesn't always spell success when it comes to auctions. Savvy marketers are digging deep into their data to understand where their buyers actually come from and how to hold on to them.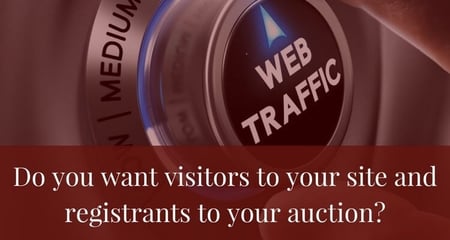 Visits alone won't keep the lights on
Picking up vast quantities of traffic, even traffic from qualified, known buyer sources is simply not enough. A contact with buying authority may not have a current demand, or possibly budget to spend in your sale. Website visitors, both new and returning, need to register and then go on to buy in your sale.
Getting regular auction buyers back to your sale
Frequent auction goers often register for every sale that is of mild interest to them - if they do proceed to bid it's quicker and easier for them to get started on the auction day. It's a smart strategy for any savvy buyer.
So on the day of your sale, how do you make sure that your auction is the priority for those prospective buyers? Keeping your auction highlights in front of them is essential - make sure they know when the sale starts and when key lots are likely to be sold. Don't make the mistake of thinking a registrant will automatically become a buyer. Online selling is more accessible than ever and competition for buyers is global.
Steps to acquiring traffic and gaining registrations
There are a wide range of media options available and we'll be happy to advise you on specialist packages we've tried and tested. High quality email and postal data files have a clear, proven track record for acquiring prospects, but there are a few other steps for consistent success.
Get the first click
Make sure you give your audience a good reason to click - it could be making sure you include a good cross-section of lots available or simply making your call to action prominent. There are many ways to improve your click through rates, to get started, read our Top Tips for Highly Responsive B2B Creative.
They're on your site - now what?
Getting a visitor is great, but this is where their experience really begins. Take a look at your page layout, is it clear and easy to navigate? Can the prospect easily find the lots to browse and can they instantly see how to register for the sale?
Get the registration
Keeping things simple is great, but when you're running an auction you need a lot of information from bidders up front. Register in your next sale as if you're a buyer, is it an easy process? Could you make any small improvements that could dramatically improve the user experience and therefore your registration numbers?
Keep in touch
Just because someone's registered for a sale doesn't mean it's going to be their top priority on sale day. Make sure you have an automated solution to keep them up to date with the sale, when it opens, how to bid and how to contact customer services if they need to.
Clean up
There will be visitors to your site who don't find what they're looking for in a specific sale, but they could be a valuable contact for the future. Make sure you have a prominent sign up for your newsletter or mailing list. If they subscribe you'll be able to notify them of future sales much more cost effectively.
Need some more help?
If you would like to work with a marketing consultant who can help you find the highest performing email and postal lists, as well a range of other specialist media, call me today. You can reach me, Donna Peterson at +1 860-210-8088 or email me directly dpeterson@worldinnovators.com.