A Strategy To Get Executives To Register For Your Education Programs

Donna Peterson
When marketing your Executive Education program, you have creative demands, budget limits, and channels decisions to consider.
A successful Executive Education program is not just about getting people in the seats, but also getting people from diverse backgrounds. When you have people with different titles from different business entities and locations, it leads to thought-provoking sessions.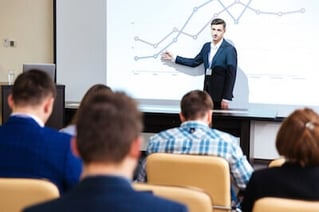 For this blog, I am going to discuss a marketing strategy to implement to inform prospective registrants and previous registrants about upcoming programs.
Executives are very busy and they need time to think about the expense and the time commitment needed to attend an executive education program.
Here is a strategic plan that will get your message in front of the right people and nurture them into registering.
#1 Start with a Display ad campaign that can be selectable by offline data, not just cookies. This way, you can be more selectable to pinpoint your target audience and to keep your message in front of people from different backgrounds. You can then take the criteria pulled and match it to your previous attendee list to make sure you are reaching the right people.
Most clients start with 830,000 impressions for $7000/month. With weekly reporting, you can tweak the selection criteria so that each week the response rate will be better. At the end of the campaign, you will have great insights into how much interest and who is interested in specific programs. Recently I was working with a client who thought their wheelhouse was Companies from 20 - 1000 Employees, but it ended up that the majority of interest came from Companies with 20 to 249 and then 1000 + so for the next promotions, we omitted Companies in 250 - 999 size range and our response rate increased. Employee size is something to consider, especially if your program is onsite for several weeks. Executives in small companies do not have the luxury of leaving to take a class no matter how much it will help the company because they are needed for the day-to-day running of the business.
#2 Find publisher, conference, or association files that can pull the criteria matching the profile of the responders in the Display ad campaign. Determine how many records they have for a Postal or Email campaign.
When promoting expensive B2B offers to upper management, I have seen a direct mail campaign to outperform all other channels. It is a great channel to deliver a lot of information - Example: A guide of all the programs you are running all year. Direct Mail is an expensive channel with postage and printing, but this strategy can help save you money -
Do an email blast to your

specific

target audience

,

making sure you are proportionately taking records from a diverse audience. Example: Instead of doing a random pull, dictate how many records come from each country or state. I recommend doing a two-time blast to capture as many opens as possible. I work with a prominent conference company that will deploy to 5000 emails - 2 times for $2,000.

Then send the mail piece only to the executives that opened the email because you know they have some interest in what you are offering. A 5000 record postal list for one-time use can cost around $1000.
#3 Keep a consistent messaging across the social platforms your prospects or previous customers are on. Remember, you are not always selling but educating about the benefits that come from attending your program. Do they get a Certification, Help rectify challenge or Keep them current on the latest Technology/Trend? It is unlikely you will get registrants from doing just social marketing, but social platforms are a great channel to use to keep your program top of mind. Executives are very busy and do not always have time to take action to register for a class right when they see the promotion. Keep delivering your message to them so that when they are available to do so, they will register.
Do NOT neglect your previous attendees! In your desperate hunt for new prospects, don't be guilty of sending out that last-minute email to existing registrants on the database. Big mistake! These are qualified known buyers - they should be a top priority. Please take a minute to think about how you communicate with them, is email the best, or would they like to receive a guide mailed to them. Make sure you are connected to as many of your previous registrants as possible on your social platforms so they will receive consistent social posts about your programs. Tip: Do some posts that talk about individual programs and then do other posts of upcoming events - like a calendar listing.
It can be overwhelming to figure out the best combination of channels to communicate on to increase the # of registrants or attract the right registrants.
Tip: Easy way to get it right is to ask your customers a simple survey. Known buyers can give you the insight you need. Ask simple, straightforward questions that take no more than 2 minutes to answer:
What are your preferred communication methods? Give options for phone/email/sms etc.

If you had to choose just one way to receive program notifications from us, what would it be?

LinkedIn / Instagram / Email / Brochure etc.
Gather your answers and analyze the results so that it will be quite clear what is your top marketing channel.
Have each channel complement the other.
Not everyone is ready for Multichannel Marketing. It requires careful planning, management, consistency, and an eye for detail - all these things requiring resources that many of us don't have enough time or man-power to do everything well.
You have to be flexible, but that doesn't mean you have to do everything. Just follow the simple rules:
Deliver what your customer needs

Use the channel(s) that suit your customers

Only offer a channel if you have the necessary resource
Consistency is Essential
Can not stress this enough***
Whether you are promoting on social platforms, sending emails, or mailing program guides, your messaging should be consistent and delivered to your prospects in a strategic fashion. Also, make sure your messaging reflects the findings from both your sales & marketing departments:
Who registers for the program

Why they register for the program

What they are hoping to get out of the program

Testimonials about the program

What % feel they got what they needed
Talk to an Expert
If you're concerned that the marketing of your executive education programs are not reaching their true potential, please feel free to call me. I have helped several prestigious universities promote their executive education programs worldwide, so let's talk to see if I can help you.
You can reach me, Donna Peterson at +1 860-210-8088 or email me directly -dpeterson@worldinnovators.com.