If you asked someone their favorite grocery store, or mobile carrier, or airline, chances are they'd have an answer. Whether it's a service, design, or product, customers develop loyalty to brands they connect and engage with in a positive way.

In a time of many choices, brand loyalty may feel fleeting for some businesses. But some brands have learned through creating and innovating how to delight and retain their customers. Let's dive into what brand loyalty is and why it's important for businesses to include it in their marketing strategy.
What is brand loyalty?
Brand loyalty is when customers continue to purchase from the same brand over and over again, despite competitors offering similar products or services. Not only do customers continue engaging and purchasing from the same brand, but they also associate positive feelings toward that brand. Brand loyalty has a lot to do with how customers perceive your brand, its actions, and its values. And it's an important way to help retain customer loyalty and increase repurchase rates.
There is a mix of three key factors that customers believe your brand embodies:
Perceived brand value

- Do your products or services provide value in your market?

Perceived brand quality

- Are your products or services better quality than your competitors?

Perceived brand trust

- Do customers have faith in your products or services?
Why is brand loyalty important?
Building brand loyalty drives growth. Customers who purchase your products or services will become repeat customers. Not only with they continue to buy from you but they will also recommend you to their peers, essentially becoming brand ambassadors for you products.
Think of brand loyalty as an indicator of some important metrics, namely trust, advocacy, and repeat purchases.
Identifying your most loyal customers can help free up marketing and advertising spend which can be used to target new customers. Attracting new customers can be up to 25 times more expensive than keeping your customers.
When you think of how customer experience plays a role in brand loyalty, it's easy to see why customers who have a positive experience are more likely to trust a brand and recommend them.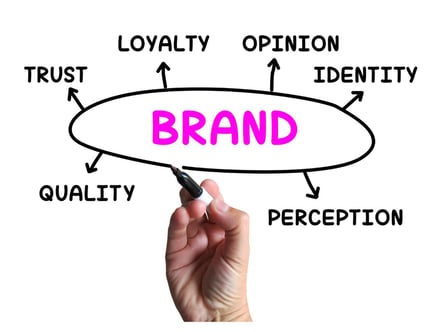 How to create brand loyalty
Brand loyalty needs to be built over time. Most customers who purchase more than three times would consider themselves loyal customers. There are many things you can do to grow loyalty and continue to gain new customers.
Be consistent
Your messaging needs to be consistent and relatable for it to feel recognizable to your target customer. If all the content you put out has the same tone, your customers will be able to clearly describe your values.
Improve customer service
Maintaining great customer service is key to building brand loyalty. Do what you can to improve how you listen to and solve customer issues. Customers will stay longer with brands that go above and beyond when it matters most.
Understand the customer journey
When bringing customers into your brand, you first need to understand what they need. Being able to identify and fix problems along the customer journey will help them feel valued.
Reward loyalty
Many brands spend so much time, money, and effort into attracting new customers and over time the long-time loyal customers are forgotten. So much gets put into getting new customers that the older, more loyal customers tend to get forgotten. It's important to do what you can to reward loyalty over the long term. The long lasting customers can be your best marketing tools.
How to measure brand loyalty
True brand loyalty is the result of a brand experience that has created trust, advocacy and repeat purchases. There are several ways to measure brand loyalty over time.
Track you Net Promotor Score (NPS)
Your Net Promotor Score is one of the easiest and most widely-recognized ways to understand loyalty to your brand. It's also conveniently short and sweet, consisting of a single question for customers to answer: "how likely are you to recommend us to family and friends?" Keeping track of your NPS – which records positive, negative and neutral responses to the question – helps you gauge how much of your customer base is likely to be loyal towards you.
The higher your NPS, the greater the loyalty you'll receive from your customers – and the better the outcome for you.
How often do your existing customers visit your website, leave reviews of their products and services, or interact with your social media channels? Engagement can indicate enthusiasm for your brand and products, and it also shows that the customer believes you are listening to them and that their engagement is valued.
How many of your customers are new, and how many are making a repeat purchase? By tracking the numbers of customers who are new vs your repeat customers over time, you can see how the customer retention rate rises and falls. It's important to measure these figures as a proportion of the whole, rather than absolute numbers. Otherwise, a dip or rise in overall sales could present confusing results.
Customer Loyalty Index (CLI)
Your Customer Loyalty Index comes from customer surveys and feedback forms that are used over time to track customer loyalty. It gives a good idea of who your loyal customers are, who are likely to turn to brand advocates and even point out flaws in your marketing strategies.
Building brand loyalty is not a simple task but if a brand has a following of loyal customers, it will enjoy a sustainable and profitable place in the market.