4 Steps to Find Biotechnology & Pharmaceutical Marketing Lists

Donna Peterson
You have a great offer and if you could get your Direct Marketing message in front of the right audience, at the right time, you will be able to increase sales.
Taking time to research different marketing lists and seeing if they have an intent to purchase, will pay off in the long run with a higher response rates and fewer steps for your sales team by reaching such a targeted audience. 79% Higher close rate when using intent data.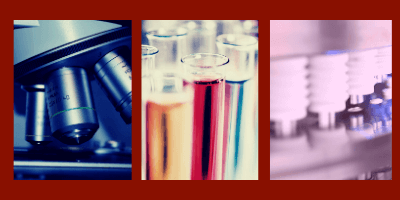 Constantly I see webinars, conferences, article, blogs about the following topics -
From Line - Should be recognizable so that the email will be opened.

Subject Line - Short with a relevant offer to the recipient.

Content with a clear "Call to Action" and why the recipient cannot live without the offer.

How to identify your KPI (Key Performance Indicators.)

How to cultivate your lead into a customer.





STOP - Those things are all very important but you need to scrutinize the marketing list you are going to send your message to. The best direct marketing piece in the world will not be effective, if it is not relevant to the person receiving it. Take time to really analyze who your target audience is. Here is a worksheet to get you started.
As a List Broker,I am always looking for files to help my clients reach their target audience but more importantly reach the people that will respond to their offer. In order to do that job successfully, I cannot just look at list descriptions to try and match a good list with the right promotion.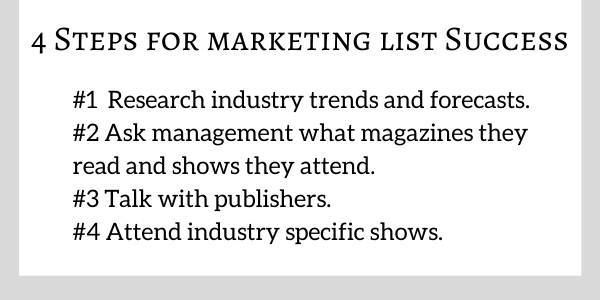 STEPS FOR MARKETING LIST SUCCESS

-
#1 Research the specific industry see what the current trends and forecasts are. Do a SWOT Analysis
a) Your Company's Strengths
b) Your Company's Weaknesses
c) Industry Opportunities
d) Industry Threats
With COVID, all predictions for 2020 are out the window. When reading materials, check the date to make sure it is taking into consideration what is going on NOW.
Here are some source I refer to when looking for Industry information -
#2 Ask top management what magazines they read and what shows they attend. The marketing lists from publishers and conferences companies is a great way to pinpoint the right people. Review the data card and media kit to see if your audience is there. Media Kits can supply a wealth of information about their readers and the industry as a whole. Here is one page from BioPharm International's 2020 media kit -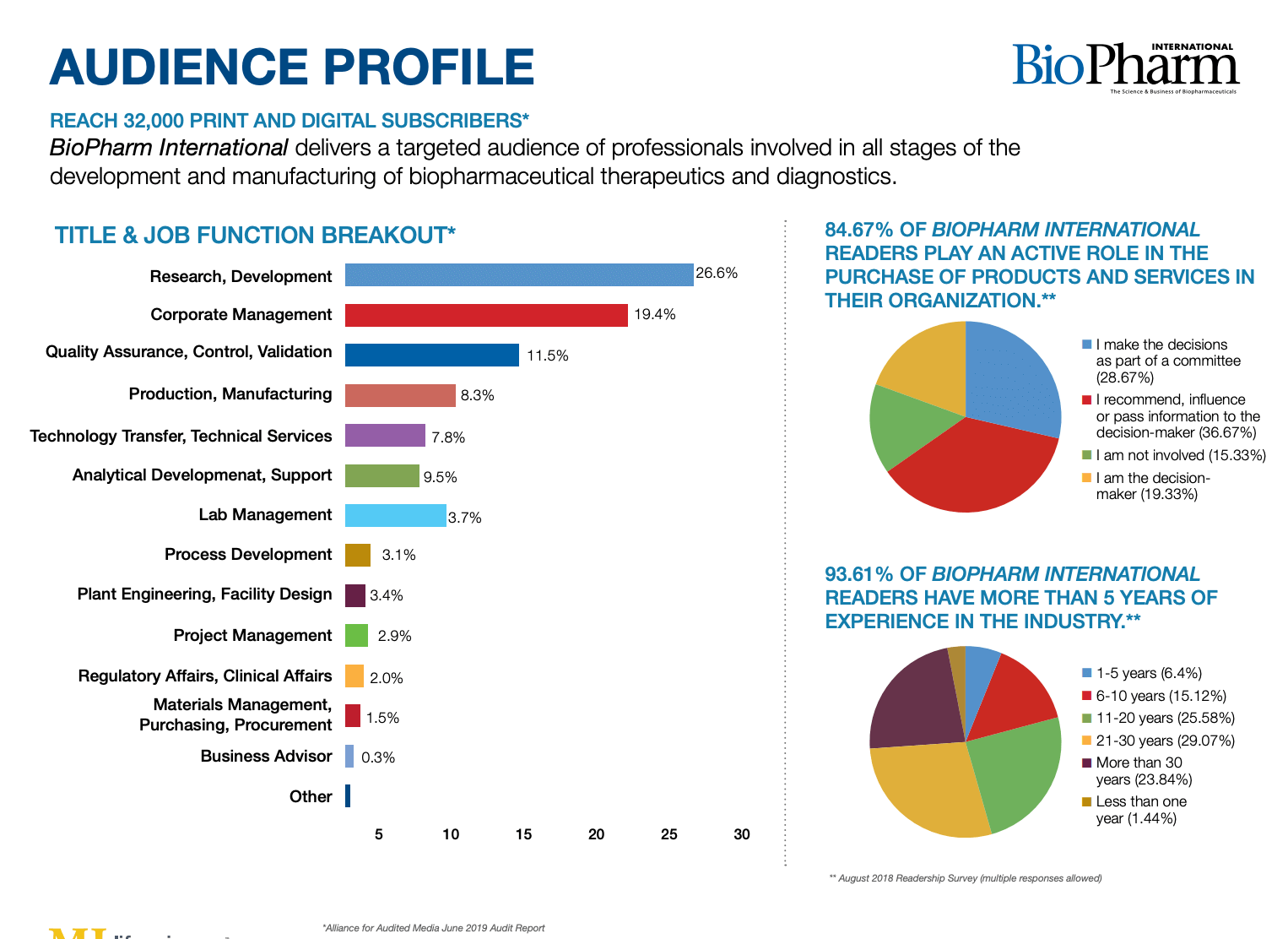 #3 Take time to schedule one-to-one meetings with publishers to discuss your marketing offer. They know their audience the best, and they are more than willing to help you. Reputable list owners see the value in helping you achieve a successful campaign. Here is a list of some of the sources we use ~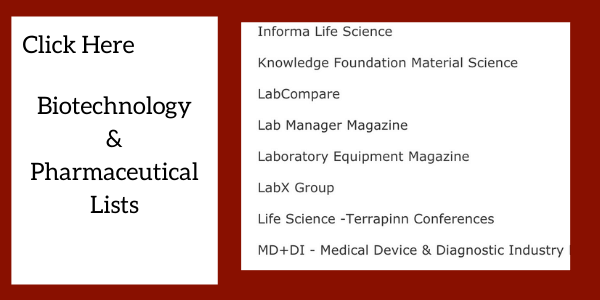 #4 Attend industry trade shows and listen to industry webinars. To build up a strong network of sources to use year after year you need to go and attend industry conferences to understand what channels and messaging works best. Shows to attend:
BioTech Week September 20-24, 2020
CPhI North America September 9-11, 2020
World Orphan Drug Congress August 24-26 2020
World Vaccine Congress Washington September 27-29, 2020
If you follow these four steps, you will build a network that will help your direct marketing campaigns achieve better results each time.
It takes a lot of time and perseverance to locate outstanding Email and Postal Lists that are appropriate for a specific offer. Still, in the end, the marketing dollars will be spent wisely, ensuring the best possible outcome. So get started in finding the BEST targeted list for your next promotion.
If you would like assistance, a List Broker can help you with this process and do all the leg work while leaving the decision of what to use up to you.
Please feel free to contact me directly, Donna Peterson - Phone: 860-210-8088, Email: dpeterson@worldinnovators.com