What Is A List Broker?

Donna Peterson
A list broker connects buyers with sellers of marketing lists.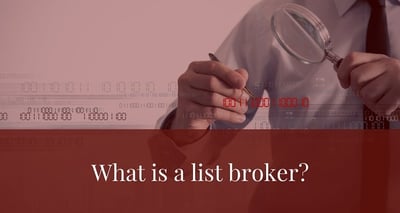 Services range from the simple acquisition of data through to specifying a target audience, researching the availability of data, and procuring data on behalf of the customer.
Some list brokers, now combine different marketing channels and multi-frequency, which helps prospects become sales qualified leads, saving your sales team several steps.
Brokers can help you with a one-off or year-long project to fit your need. They work on a per-order basis, no contracts, so they know each order must perform well; otherwise, you will not use their services again.
What can a list broker do for me?
List research, finding the best

targeted list

available

List recommendations

,

based on experience

Finding obscure lists to keep you ahead of your competition

Great value, by passing on savings from their negotiated rates

Support with creative and other marketing channels to ensure the best results



Why would you use a list broker?
Your first thought is probably, 'why would I add a middle man'? Surely that would add cost to my budget?
Well, not necessarily - often it's the exact opposite. Let me explain.
A list broker is typically paid a commission from the list seller. The commission would not be available to regular direct purchasers, so the actual cost to you for the data is either the same, or in some cases less than buying direct because brokers get special volume discounts.
Staying ahead of your competition
Good list brokers have an extensive network of opted-in list sources they have researched and vetted to make sure the list owner is doing everything possible to keep their lists clean and compliant. They also spend time sitting down with the list owner to discuss the selection criteria on their file and how granular they can get on both their email lists and postal list.
For example, a seasoned List Broker will know what publications or tradeshows would be useful to find Lab Directors interested in HPLC machines in Europe in companies with 50 + employees or Plant/Operations Management in Automotive Manufacturing companies interested in Welding machines. List Brokers have access to over 60,000 direct marketing lists worldwide.
Also, if you have a list of Associations, Publications, and Tradeshows, you can give them the list, and they will pull all the details together into one easy to read spreadsheet to review and select to order.
A list broker is buying data every day – they have first-hand experience of literally thousands of campaigns, both email and postal. In addition to knowing about unusual list sources and renting data for a great price, list brokers can also help you find ways to improve your promotion.
Remember, a good list broker will not only find a email list or postal list for you and help you expedite your campaign, but also help you analyze the results. They will look at your click-through rate, open rate, and wherever possible, the actual sales conversions that occurred as a result of the campaign. When possible, they will carefully review the demographics of who is responding.
We've done this for thousands of campaigns, and this knowledge, based on actual results, is fed back into all our future campaigns. So you don't have to rely on just your results to guide you to the best performing lists.
Do you have to use a list broker?
No, but you could be missing out on valuable input to your next campaign (and remember - there's no cost to you)!
Working with someone who knows the systems, has the connections and can give you sound advice quickly is the marketer's dream come true.
You may not have to use a list broker, but perhaps a better question is 'why wouldn't you use a list broker?'
Who to call
If you would like to work with a list broker who can help you find the highest performing email and postal lists, for domestic and international markets, call me, Donna Peterson, today. You can reach me at +1 860-210-8088 or email me directly dpeterson@worldinnovators.com.