Can a list broker save me money?
One question we're often asked is how we can help marketers save money. Most budgets - large and small - are stretched, and any savvy marketer will proactively look for savings to give them more funds for their campaigns.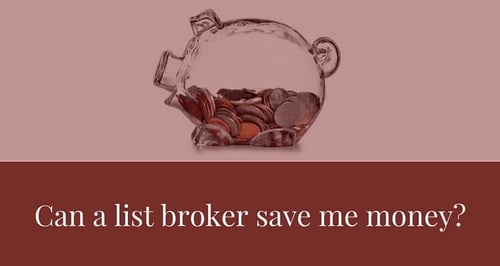 How much could you save?
It will depend on the service you require, but the vast majority of people will save more than just money. Let's look at a few of the ways we can help you save money, and the instances when money savings are further enhanced by value-added services.
Special rates
As list brokers, we buy data on a regular basis. Many list sellers will give us exceptional value rates that are not available to direct purchasers. A reputable list broker, like us, will often pass these savings back you, the customer.
Save time, save money
It's what we all crave the most, and there's rarely enough of it - time!
Between managing a team, researching campaigns, posting on social media, signing off artwork and so much more, a marketer's life is anything but laid back.
If you've ever pondered 'could I have achieved a better result with just a little more research?' a list broker could be answer.
So how long does it take to research a list? Let's look at the steps:
Find list sources - most people will turn to search engines to source list vendors, but there are so many more resources out there, you just need to know where to find them!
Contact vendors - many high quality vendors are not listed in directories or the like - so you often have to reach out just to ask if data rental is possible
Request a data card – this is a breakdown of the data available and how you can select from it, e.g. age, location, job title etc.
Request a count - you supply your requirements to the list vendor and they respond with the total number of records available
Refine your criteria - if you have too many or too few records, or perhaps the list is too bias is one direction (too many 20 > 30 year olds and and too few 30 > 40 year olds)
Wait for another count
Order your data
Supply the creative
Manage the execution of the campaign
Follow up for analytical data.
As you can see this is not a 5 minute job - and that process needs to be repeated for every data source.
If one list takes 2 hours total (and that's working really fast) and you consider 5 lists - that's 10 hours you could compress to less than 2 hours working with a list broker. What would you do with the whole day you save?
More added value
It's not just money and time you save working with a list broker. You also gain in other ways to:
Sharing of knowledge, to help you achieve a highly targeted list
Past experience of different vendors - a broker often knows the lists that perform the best, after all they have the benefit of past experience. Think how much that could save!
Fast turnaround. Having a great relationship with list vendors takes time, trust builds up over years. When a reputable broker asks for a super speedy service, they are far more likely to get a positive response, than a one-time email sender.
Guidance for creative. Buying your data is just one step in the chain - there's a lot more to executing a successful campaign for both email and postal lists. A good list broker will advise and guide you to help you get the best possible response.
Work with a reputable list broker
If you would like to work with a list broker who can help you find the highest performing email and postal lists, for domestic and international markets, call me today. You can reach me, Donna Peterson at +1 860-210-8088 or email me directly dpeterson@worldinnovators.com.