One Time List Rental vs. Outright Purchased List
Buying email or postal data can be a minefield. With thousands of sources, classifications and formats to choose from, it can then be further complicated when you have to decide if you want to rent or buy the list.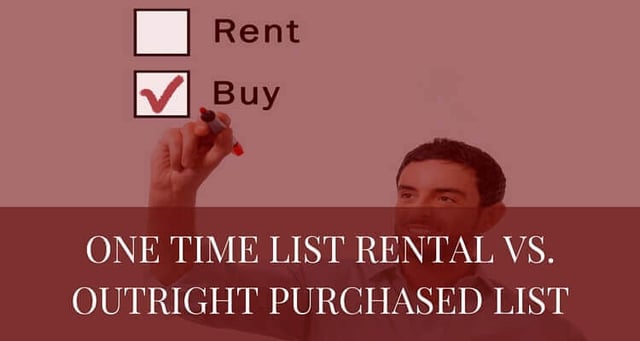 What's the difference between list rental and outright purchase?
Typically, when you rent a mailing list you will be paying for a single use of the data, i.e. you can send one marketing message to the people on that list, once.
Some vendors will offer discounts to use the same data multiple times, but you will still be renting that data for a limited use.
If you purchase a list outright, you will be able to use that list as many times as you wish. In some cases there is a time-limit, usually 12 months from the date of purchase.
What are the similarities?
You never own or have exclusive use of the data. The vendor will sell the same data to other parties and this can happen at any time.
Whilst the list vendor will be actively updating, cleaning and cleansing data, you will receive the most up to date list at the time of purchase, but not receive ongoing updates (such as unsubscribes for email lists).
When should you rent data?
If you are testing a new source of data, renting is a good option. It is typically much cheaper than outright purchase. If you are testing a new list, which you might later choose to purchase outright, consider renting a small sub-set of data to send a single message to, if it performs well you could then go on to buy the list and use it multiple times.
If you are marketing a one-off event renting is for you. You might want to rent the data several times as you lead up to your event but even renting a list 3 or 4 times can be a more cost effective solution, of course check this with the vendor before committing!
When should you buy data?
If you are confident that the source of the data, and the target segment is right for your campaign purchasing the list outright will give you the flexibility to send multiple messages over a long period.
This is an ideal solution if you are promoting a specific product or service that you will sell over a long period.
Buying a list will also enable you to build a teaser-style campaign. This is where you don't ask for the sale on email one but lead up to it. Perhaps building up, over a series of emails, a picture of the main benefits of your product or service before asking for the sale.
Perils of data rental and purchase
Buying from a reputable source is a given – you want accurate data, that is opted-in. This protects both your reputation and the effectiveness of your campaign.
Check the terms and conditions carefully. There could be restrictions on how the data can be used, the frequency with which you can use it and many more clauses that you need to comply with. Grab a coffee and go somewhere quiet to review the small print in detail – don't risk getting caught out later.
Need some expert advice?
Donna has been helping businesses across the world source, high quality, effective data for over 20 years. She works with leading vendors and can help you find the best quality data at the right price, under the right terms for your campaign.
Call her today to discuss your data needs on +1 860-210-8088 or email Donna directly dpeterson@worldinnovators.com.