Solving the B2B Puzzle: How to Amplify Your Message and Build Trust with Omnichannel Marketing

Donna Peterson
As an industrial B2B company, you're likely struggling with the challenge of ensuring your message is not just heard, but resonates in the market. How do you foster meaningful relationships, instill trust, and cultivate loyalty among your audience? How do you improve your marketing results?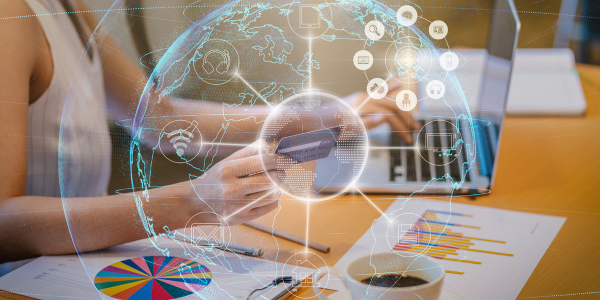 At World Innovators, we have been facing and solving these challenges head-on for our clients for over 43 years. Drawing on our wealth of experience, we're excited to share our proven approach: omnichannel marketing enhanced with industry-specific publications.
Step 1: Unravel Your Customer's Problems
In our four-decade journey, we've learned that understanding the customer's world is the foundation of effective marketing. It's not just about your product or services; it's about the problems they solve. What industry-specific publications do your customers rely on for solutions? Use market research tools, surveys, and interviews to understand your customers deeply.
Checklist:
Define your audience

Use market research to understand your customers' challenges.

Create buyer personas that reflect your customer's needs and preferences.
Step 2: Identify Trusted Industry Publications
In a crowded market, earning your audience's trust is crucial. One effective way is to connect through the industry-specific publications they already trust. These could range from online newsletters to authoritative trade journals. The key is to ensure these publications have a substantial reach and a respected voice in your sector. Example: Looking for Pharmaceutical manufacturers you might look at Interphex, Bioprocess International, Pharmaceutical Technology, Laboratory Equipment Magazine, Medicine Maker . . .
Checklist:
Step 3: Tailor Your Content Strategy
Now, it's time to convey your message. Whether it's thought leadership pieces, sponsored articles, or research insights, ensure each content piece aligns with your brand values, addresses your audience's challenges, and provides valuable solutions.
Checklist:
Develop a content strategy for each chosen publication.

Align the content with your brand's values and your audience's needs.

Ensure your content is insightful and adds value.




Step 4: Integrate Your Marketing Channels
A hallmark of successful omnichannel marketing is seamless integration. This means your website, emails, social media, industry publications, and offline events should all deliver a consistent message and customer experience. It's this consistency that builds trust and loyalty.
Checklist:
Identify other marketing channels for integration.

Ensure consistent messaging across all channels.
Step 5: Track, Learn, and Improve
In our 43-year journey, we've learned that what gets measured gets improved. Use KPIs to assess the effectiveness of your campaigns across channels. Based on these insights, continually refine your approach for better results.
Checklist:
Define relevant KPIs.

Monitor campaigns across all channels and track their performance.

Use insights from the data to refine your approach.
Conclusion
At World Innovators, we've seen firsthand how a well-executed omnichannel marketing approach can help B2B companies amplify their message, build trust, and improve results. With a well-informed strategy, your company can rise above the noise, build lasting relationships, and achieve marketing success. After reading this blog follow the check list so you can get on a direct path to cultivating loyal customers that will grow your business